Series: Once-A-Day
Paperback: 1280 pages
Publisher: Zondervan; Special edition (October 31, 2011)
Language: English
ISBN-10: 9780310950950
ISBN-13: 978-0310950950
ASIN: 0310950953
Kindle Version:
File Size: 4672 KB
Print Length: 1280 pages
Simultaneous Device Usage: Up to 5 simultaneous devices, per publisher limits
Publisher: Zondervan (January 24, 2012)
Sold by: HarperCollins Publishing
Language: English
ASIN: B004PYDKEU
Book Description
The NIV Once-A-Day Bible: Chronological Edition helps you encounter the Bible every day in a new and fresh way. It organizes the clear and accessible NIV Bible into 365 daily readings in chronological order so that you can practice the spiritual discipline of daily Bible reading within a new and different context.
About the Authors
The devotionals, insights and overviews contained in
The Once-A-Day Bible: Chronological Edition
were written by a team of writers at Walk Thru the Bible.
Walk Thru the Bible is a ministry whose mission is to ignite passion for God's Word through innovative live events, inspiring biblical resources, and a global impact that changes lives worldwide. Known for innovative methods and high-quality resources, we serve the whole body of Christ across denominational, cultural, and national lines. We partner with the local church worldwide to fulfill its mission, communicating the truths of God's Word in a way that makes the Bible readily accessible to anyone. Through our strong global network, we are strategically positioned to address the church's greatest need: developing mature, committed, and spiritually reproducing believers.
Our live events and small-group curricula are taught in more than 45 languages by more than 80,000 people in more than 100 countries. More than 100 million devotionals have been packaged into daily magazines, books, and other publications that reach over five million people each year.
Walk Thru the Bible...helping people everywhere live God's Word.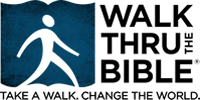 My review is based upon the e-version of the NIV Once-A-Day Bible: Chronological Edition.

The NIV Once-A-Day Bible: Chronological Edition
belongs to a series a bibles: "Once-A-Day" bibles from the good people at Walk Thru The Bible (
http://www.walkthru.org/
). The NIV has long been the most popular bible format today.
The NIV Once-A-Day Bible: Chronological Edition
is organized into 365 daily readings placed in chronological order. There is a daily Scripture reading followed by a short devotional thought written by the staff at Walk Thru the Bible. The daily reflections are brief but informative and interesting.

I tested the links on my computer and on my iPad and they worked perfectly.